Wembley — the home of football. Where the biggest games in domestic football and some of the biggest games in the world are played, and where the NFL, big-time boxing and A-list musicians all rock up to for show-stopping spectacles. If a live event is box office, Wembley is where it's at.
Because of this, the town has become a bit of a London hot spot for culture, community and students. And a go-to place for three cornerstones of student life: tasty food, great coffee and entertainment.
90,000 people coming from around the world for events only get to sample these delights on rare occasions. But you, as a student living at Canvas Wembley, can enjoy them all-year-round.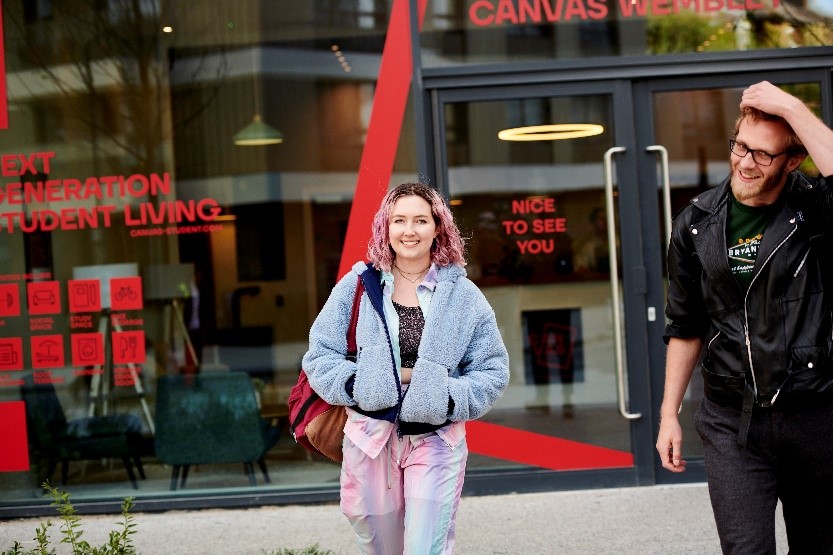 So where's good nearby?
With help from Canvas Wembley General Manager, Akiff Rahman — a man who knows good coffee and bagels when he sees them — here are some top places to enjoy as an adopted...er, Wemblian? Wembleyer? Wembleyonian? A university student living in Wembley.

If you're a regular on the London Underground, you may have passed or even sampled Black Sheep Coffee before. Of course, of all their locations Wembley is the best. We've no scientific proof of this, but it's our (and soon to be your) local and we love it.
Black Sheep Coffee serves up the finest speciality coffee beans from all over the world — Rwanda, India, Colombia, Brazil and Peru to name a few.
You're not just limited to coffee and Akiff's favourite Tumeric Lattes (recommended) though. BSC's 100% organic smoothies and shakes are a real treat, as are their selection of Norwegian waffles. It turns out Norway is a real dark horse in the waffle game. Who knew?
Best of all, it's less than a five-minute walk from Canvas Wembley.

One of the great things about Canvas Wembley is its location, within easy reach of London universities and within even easier reach of BOXPARK Wembley.
We'll get onto the delights of BOXPARK shortly but first, a special mention for one of its residents, Oatopia.
From freshly cooked porridge to a variety of toasted bagels (including Akiff's option of choice, the halloumi bagel) to 30 different types of artisan flapjack, it's a place where you'll want to try everything on the menu at least once before deciding on your 'usual'.
Exactly what you want on your doorstep.

BOXPARK is the best thing to happen to shipping containers since Storage Hunters.
But unlike those risk taking buyers, stepping inside a container at BOXPARK won't lead to the shattering disappointment of the treasure trove you were expecting turning out to be boxes of rusty nails and knock-off VHS tapes.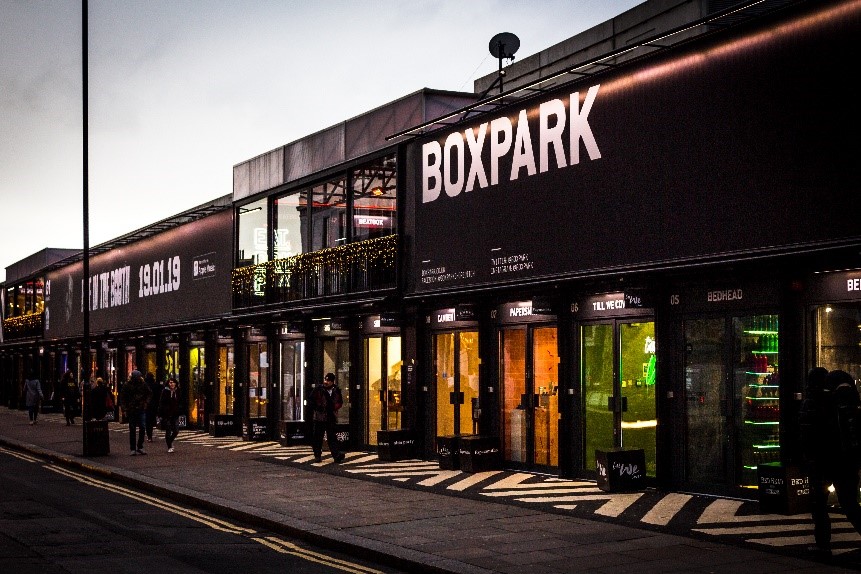 BOXPARK Wembley is effectively a mini-city of street food.
As well as Oatopia, you've got street food traders and dining options laying on everything from Caribbean cuisine to Greek souvlaki, German gourmet kebabs to Mexican burritos, Japanese sushi to Chinese steamed buns, Belgian beers to…well, the list goes on and on and on. Let's just say, if you fancy it, a trader at BOXPARK serves it.
And if the food and drink isn't entertaining enough, you enjoy some live music or get stuck into some virtual reality gaming, crazy golf, beer pong, foosball, or competitive urban axe throwing.
It's a great hang out for students. Somewhere to come on your own during the day, meet up with a friend for a bite to eat or enjoy a full night out as a group and never feel bored or uncomfortable.

Wembley Way

Wembley Way (or Olympic Way to give its official name) is the road that links Wembley Park tube station to Wembley Stadium. On event days, thousands of spectators walk down along the road, creating a real energy in the area.
But it's pretty special on the days when only locals are around too.
Perhaps it's the buzz created by BOXPARK. Or maybe it's the aura of the stadium. Or both. Whatever it is, there always seems to be a good vibe in this part of town.
If you ever fancy a nice stroll, grab yourself a coffee (from BSC or Oatopia, of course) and have a walk up and down Wembley Way. You'll be glad you did.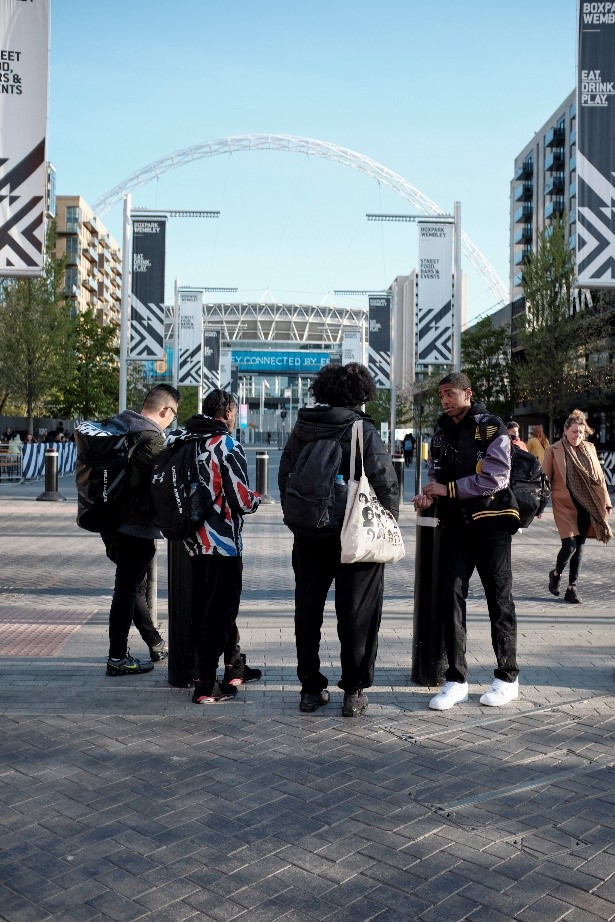 Troubadour Wembley Park Theatre

Wembley Stadium isn't the only venue in town that can put on a first-class show. The SSE Arena is one of London's most iconic concert and events venues, with a calendar to match the big names of its neighbour.
Then there's the Troubadour Wembley Park Theatre, a 1,000-2,000 capacity venue next door to BOXPARK that puts on the kind of live theatre and comedy you'd expect to travel to the West End for.
And, as is the way with seemingly everywhere you go round these parts, there's a big sociable bar and a restaurant offering up a modern British menu for some pre-show nourishment.

Okay, we've plied you with enough food, drink and entertainment options to cover your entire stay at uni. It's only right that we shout out somewhere to enjoy a bit of serenity. And you'll not be surprised to hear you don't have to go far to find it.
King Edward VII Park is a 20-minute saunter from Canvas, along Wembley Park drive, close to Wembley Central tube station.
It's a proper park too, with vast open green spaces and wild meadows to relax, nice paths to stroll or jog around and lots of sport facilities.
A lovely part of town to spend a few hours after a busy week of uni and BOXPARK.
Student living worth chanting about

Coffee, food, entertainment and leisure all within walking distance of your front door, and with easy access via bus and tube to the University of Westminster and Middlesex University (30 and 35 minutes away respectively), amongst many others, what's not to love?
In the home of football, life as a university student at Canvas Wembley is worth chanting about...
Coffee, food and walks in Glasgow: Canvas students' go-to places
Glasgow is a brilliant student city. Three world-class universities (the University of Glasgow and University of Strathclyde are within a few minutes walk of Canvas, and Strathclyde University is only 25 minutes away via public transport), lots of green spaces, great shopping, a glorious quayside and thousands of independent cafés, bars and restaurants.
Read more
Get to know where to go as a student living in Walthamstow
With great transport links to London Metropolitan University (15 minutes away), UCL (20 minutes away) and King's College London (30 minutes away) as well as many other London universities, a vibrant and diverse community, hundreds of independent businesses and a giant nature reserve, Walthamstow is the place to be for students in the capital.
Read more