Whether January whizzed by and you didn't get a chance to kick start any New Year's resolutions, or you're looking for inspo to keep up your ongoing goals - check out our handy tips and recipes for a happy and healthy 2022.
5 HAPPY STUDENT TIPS
1) Think positive
Studies show that positive thinking is more likely to encourage you to plan ahead and think of positive actions you'd like to take in the future, to increase your energy levels and essentially live a happier life – that's the goal right?
Check out some great POSITIVE THINKING QUOTES to get you inspired.
Why not take note of 1 positive moment every day? Noticing the positive things that happen in your everyday life can make it easier to see things with a positive perspective and give off positive energy.
Sometimes, simply recognising the potential humour in a situation can also lessen your stress and brighten your outlook. Seeking out sources of humour such as watching a funny series or scrolling through memes online can help you think more positive thoughts and impact your energy.
2) Manage your energy instead of your time
Try focusing more on your energy than your time, where you might want to think about reducing your pace so you don't burn out.
Not every challenge in your life needs to be solved immediately to increase your energy levels, simply try and tackle one thing at a time. You'll be surprised at how good it feels to sort through just one issue and how this will positively affect your energy.
Once you're done commending yourself (there is no time limit on this… self-congratulate as long as you want!) then you can move onto the next challenge you want to tackle.
You can apply this to your personal life, uni assignments and at work, helping you be more effective, efficient and most importantly, happy.
3) Be your authentic self
It can be really tiring trying to be something or somebody that you're not, whether that's at uni, work, or in your personal life… don't force it!
When you stop fighting against some of the things that make you who you are, you'll feel more at ease and perform better in anything you do.
Being real, being open and just being you is one of the most stress-relieving things you can do for yourself and will do wonders for your energy levels.
Remember, you can be the best version of yourself and your best is always good enough!
Make the most of a new year and try some new things to see if they help you build on your authentic self. Whether that's painting a masterpiece, trying your hand at baking, or writing a poem, it's the perfect opportunity to become the best version of yourself.
4) Look after yourself
When it comes down to it, if you're not taking care of yourself physically, it's going to be tricky to look after yourself mentally and emotionally.
Make sure you're eating well and drinking plenty of water to keep yourself healthy and hydrated - we know this might be tricky alongside all that studying and partying but set yourself a target of drinking 2 litres of water a day and a limit of 3 snacks, then you'll soon be on top of it.
Exercise can also boost your mood and help you be more productive with your assignments and in your personal life, so make sure you're doing your daily recommended exercise, whether that's going for an hours run or even just a walk around the park for some fresh air.
5) Know what drains you
Being aware of things that really drain you gives you the power to try and avoid them.
Whether it's negative discussions at uni, falling out with friends or not speaking with your family enough… having the knowledge that these things are going to negatively impact your energy will help you take steps to avoid getting yourself into that situation.
If you know that something drains your energy, setting yourself some boundaries can be a good thing when it comes to looking after yourself and your emotions.
We know that these things and feelings won't always be avoidable, but even the awareness that they exist and it's okay to feel this way might take some of the weight off your shoulders.
3 HEALTHY STUDENT RECIPES
Whip up a huge batch of bolognese that's fit to feed a hungry crowd, or freeze half for a speedy midweek meal. This dish serves 12, takes 25 mins to prep, 1 hour 30 mins to cook and contains 295 calories per serving.
INGREDIENTS
4 tbsp olive oil
6 smoked bacon rashers, chopped
4 onions, finely chopped
3 carrots, finely chopped
4 celery sticks, finely chopped
8 garlic cloves, crushed
2 tbsp dried mixed herbs
2 bay leaves
500g mushrooms, sliced
1½ kg lean minced beef (or use half beef, half pork mince)
6 x 400g cans chopped tomatoes
6 tbsp tomato purée
large glass red wine (optional)
4 tbsp red wine vinegar
1 tbsp sugar
parmesan, to serve
METHOD
Step 1)
Heat the oil in a very large saucepan. Gently cook the bacon, onions, carrots and celery for 20 mins until golden. Add the garlic, herbs, bay and mushrooms, then cook for 2 mins more.
Step 2)
Heat a large frying pan until really hot. Crumble in just enough mince to cover the pan, cook until brown, then tip in with the veg. Continue to fry the mince in batches until used up.
Step 3)
Tip the tomatoes and purée in with the mince and veg. Rinse the cans out with the red wine, if you have some, or with a little water, then add to the pan with the vinegar and sugar.
Step 4)
Season generously and bring to a simmer. Simmer slowly for 1 hr until thick and saucy and the mince is tender. Serve with pasta and parmesan.
2) Versatile veggie chilli - Jamie Oliver
A hearty, delicious alternative to traditional chilli con carne that can be tweaked depending on the ingredients you have access to. This dish serves 4, takes 15 mins to prep, 1 hour to cook and contains 369 calories per serving.
INGREDIENTS
500 g sweet potatoes
1 level teaspoon cayenne pepper , plus extra for sprinkling
1 heaped teaspoon ground cumin , plus extra for sprinkling
1 level teaspoon ground cinnamon , plus extra for sprinkling
olive oil
1 onion
2 mixed-colour peppers
2 cloves of garlic
1 bunch of fresh coriander (30g)
2 fresh mixed-colour chillies
2 x 400 g tins of beans, such as kidney, chickpea, pinto, cannellini
2 x 400 g tins of quality plum tomatoes
lime or lemon juice, or vinegar , to taste
METHOD
Step 1)
Preheat the oven to 200˚C/400˚F/gas 6. Peel and chop the sweet potatoes into bite-sized chunks, then place onto a baking tray. Sprinkle with a pinch each of cayenne, cumin, cinnamon, sea salt and black pepper, drizzle with oil then toss to coat. Roast for 45 minutes to 1 hour, or until golden and tender.
Step 2)
Peel and roughly chop the onion. Halve, deseed and roughly chop the peppers, then peel and finely slice the garlic. Pick the coriander leaves, finely chopping the stalks. Deseed and finely chop the chillies.
Step 3)
Meanwhile, put 2 tablespoons of oil in a large pan over a medium-high heat, then add the onion, peppers and garlic, and cook for 5 minutes, stirring regularly. Add the coriander stalks, chillies and spices, and cook for a further 5 to 10 minutes, or until softened and starting to caramelise, stirring occasionally. Add the beans, juice and all. Tip in the tomatoes, breaking them up with the back of a spoon, then stir well.
Step 4)
Bring to the boil, then reduce the heat to medium-low and leave to tick away for 25 to 30 minutes, or until thickened and reduced – keep an eye on it, and add a splash of water to loosen, if needed. Stir the roasted sweet potato through the chilli with most of the coriander leaves, then taste and adjust the seasoning, if needed.
Step 5)
Finish with a squeeze of lime or lemon juice or a swig of vinegar, to taste, then scatter over the remaining coriander. Delicious served with yoghurt or soured cream, guacamole and rice, or tortilla chips.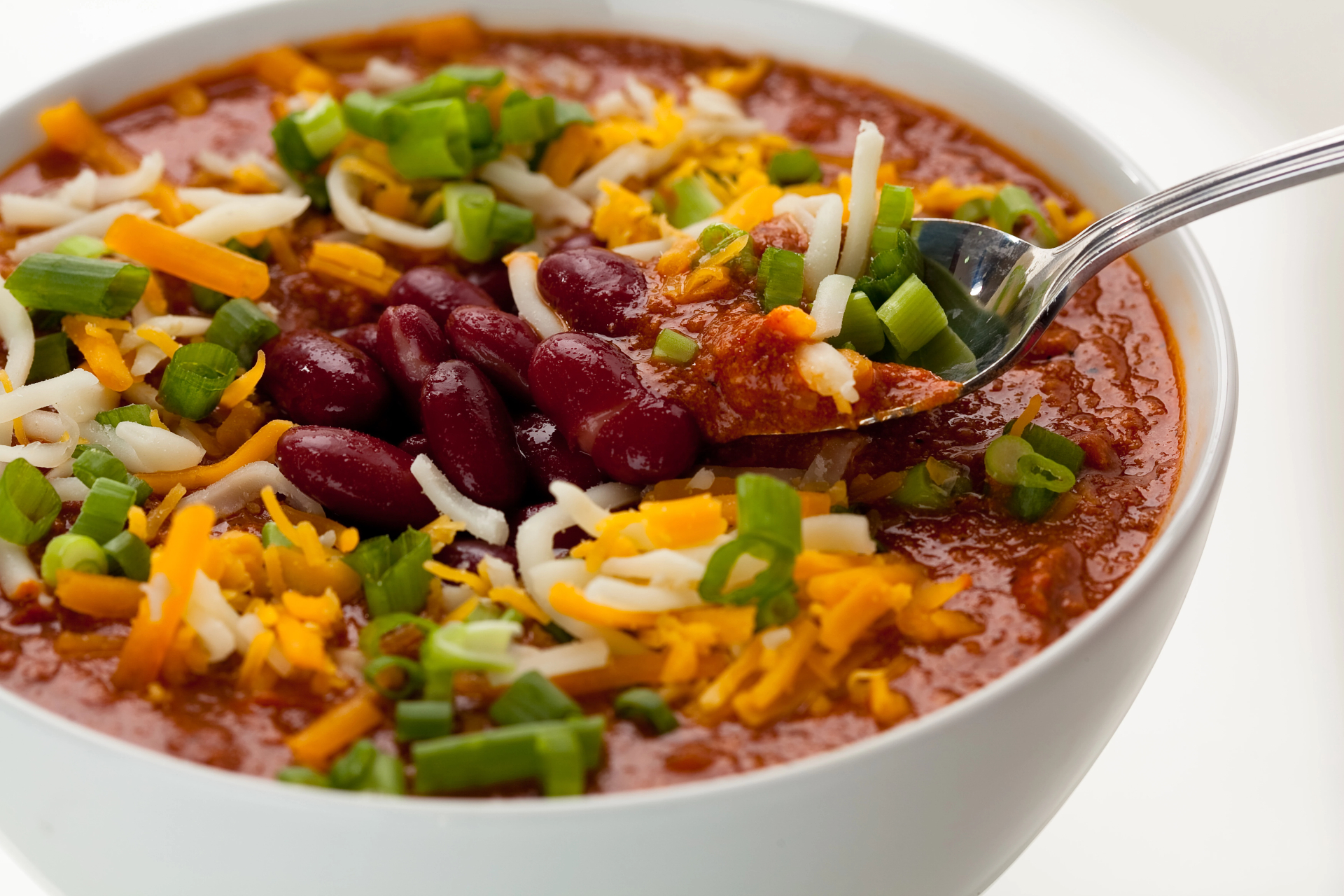 Make the most of an entire butternut squash in this fragrant vegetarian ramen. This dish serves 4, takes 15 mins to prep, 30 mins to cook and contains 384 calories per serving.
INGREDIENTS
1 medium butternut squash (unpeeled), halved and cut into small chunks, seeds reserved
2 tbsp toasted sesame oil
200g fresh greens
1 large garlic clove, crushed
5cm piece ginger, finely grated
50g miso paste
15g dried porcini mushrooms
2 tsp reduced-salt soy sauce
4 eggs
300g pack cooked udon noodles
sriracha, to taste (optional)
METHOD
Step 1)
Preheat the oven to gas 9, 240°C, fan 220°C. Put the squash on a large baking tray, drizzle with 1 tbsp sesame oil, toss to coat. Roast for 25-30 mins or until tender. Remove and finely slice the hard stalks from the fresh greens. Slice the leaves into thin strips and set aside.
Step 2)
Heat the remaining oil in a large saucepan, add the garlic and ginger and cook for 2 mins over a low heat. Add 1.7ltr boiling water, the sliced stalks, miso paste and porcini mushrooms. Increase the heat to medium and simmer for 15 mins.
Step 3)
Heat a frying pan over a medium heat, tip in the squash seeds and dry-fry, stirring, for 2 mins until starting to brown. Add the soy and fry for 1 min. Remove from the pan and set aside.
Step 4)
Bring a small saucepan of water to the boil, add the eggs and cook for 6 mins, then drain. Run the eggs under cold water, then peel and slice in half. Add the noodles to the mushroom-miso broth. Cook for 1 min, then add the leaves and cook for 1 min.
Step 5)
Divide the broth, noodles and greens between 4 bowls. Top with the squash, eggs and seeds. Finish with a drizzle of sriracha, if using.